Concept
Mokume Gane(木目金) in Japanese translate as wood grain metal.
which is a process of laminating sheets of metal then carving and forging that laminate to produce patterns that often resemble wood grain. its earliest work with mokume-gane is from the early 1700's (Edo period). MOKUMEGANEYA, which produces unique patterns to create Wedding Bands that symbolize the happiness of the uniqueness. We hope The Mokume-gane pattern will deepens the bond between the couple.
This unique setting and ring design came about after discussions with the clients.
And We so enjoy working with clients to bring ideas and visions into a ring one can treasure forever.

– MOKUMEGANEYA
Sakura – Ichirin -桜一輪-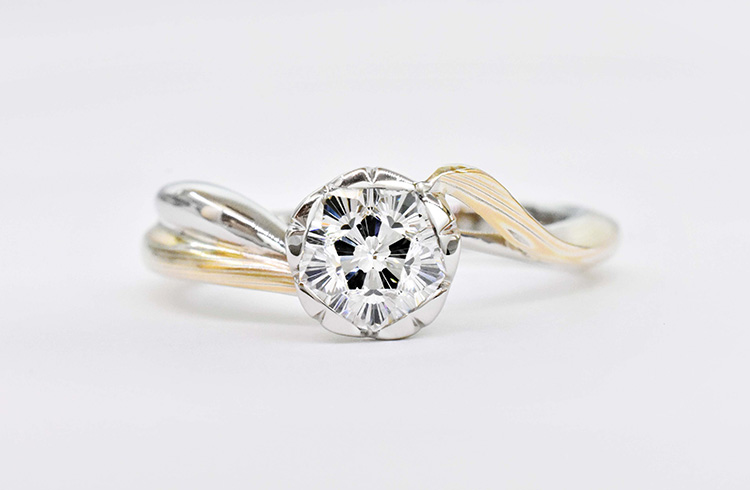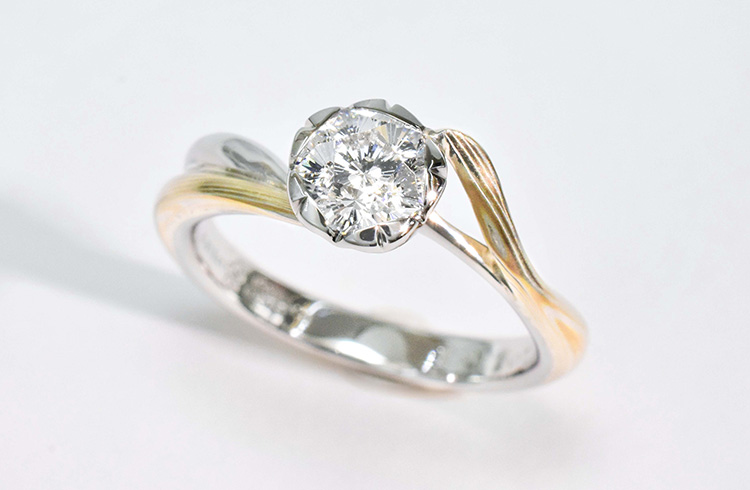 Concept
Sakura-Ichirin ( 桜一輪 ) was created by our master craftsmen, expresses the beauty of cherry blossoms in full bloom.
"Sakura Diamond" is wrapped with petals of cherry blossoms, and Mokume-gane branches create a soft flow, resulting in a dainty Mokume-gane "Sakura Ichiran( 桜一輪 ).

METAL    PG×SV(Pt)
DIAMONDS  Sakura Diamond 0.6ct
PRICE    $2,500 *Without center stone