Find your ring size : Ring Size Converter
Use our ring size converter.
Because we make our rings with JPN size, you will need to let us know your ring size in JPN size.
Our ring size converter enables you to convert your ring size into JPN size automatically.
*Please scroll down this page to refer to "How to use".



Circumference(mm)

Diameter(mm)

Japan & Singapore

US & Canada

UK & Australia

HongKong

Europe

Switzerland

China
How to use
1. Select the size measurement you are most familiar with from out of 8; circumference, diameter, US & Canada, UK & Australia, Hong Kong, Europe, Switzerland, and China.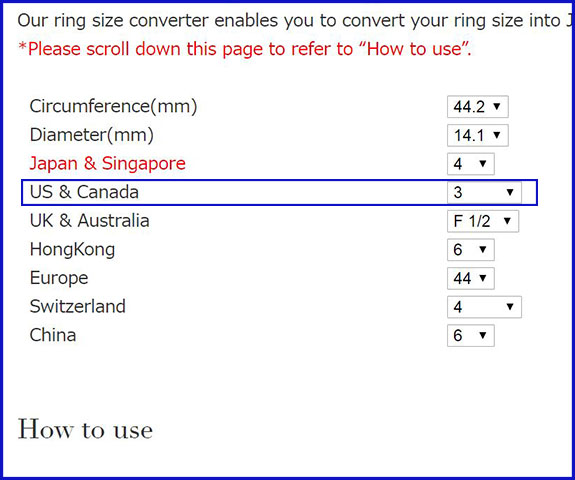 2. Enter your size on that measurement unit you selected by pulling down.
*You just need to enter ONE measurement unit, not all of them.
3. You will find your ring size in JPN size where the letters are red.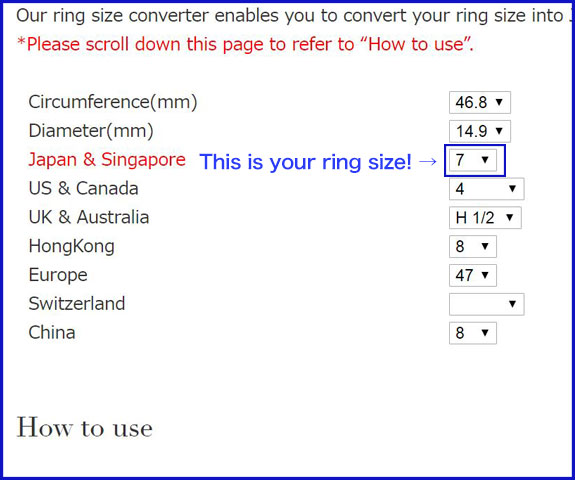 Please contact us with any questions regarding to your ring size!