■The production technique "Mokumegane"
Mokumegane is an exemplary Japanese production technique where the beautiful wood grain pattern is created through the forging of different color metals. The traditional technique was derived during the Edo period in Japan, and has been passed down for approximately 400 years.

■Mokumeganeya
Mokumeganeya was founded by Masaki Takahashi, an expert in the Mokmegane technique.
Mr Takahashi studied at the Tokyo University of the Arts and received a doctorate degree in the art.
While actively working in the field, he has also established a research laboratory to preserve this traditional craft and ensure it is passed on to generations to come.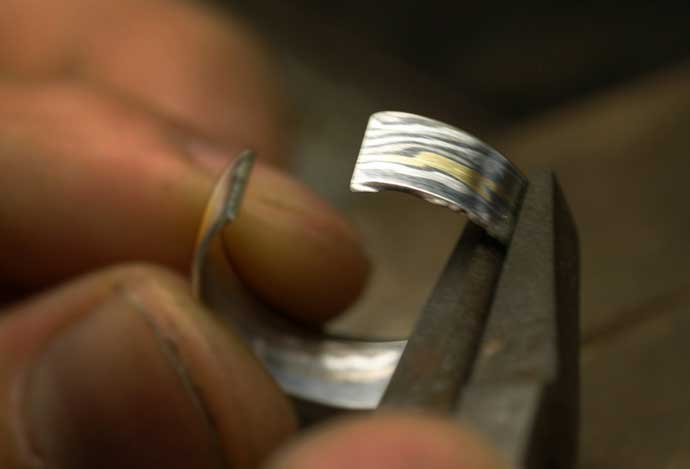 At Mokumeganeya, we create rings using Mr Takahashi's mokume techniques. Encompassing the mezmerising wood grain pattern, your ring will be formed to the design and coloring specifications of your desire. Customize Rings.

At Mokumeganeya we prepare beautiful design images reflecting traditional Japanese culture, as such at the outset, please refer to the catalog.





With these designs at the essence, we strive to create enchanting unique objects of your desire. We are highly experienced in delivering rings to our valued customers. Please check our customer stories, which are a testament to our service promise. Testimonials.

If you are searching for a divine a one-of-a-kind ring, then by all means, bring your creative vision to life with Mokumeganeya.

Forged from mokumegane metals and to your custom design, your ring will be a true piece of art of your very own.