April 27, 2012 3:00 PM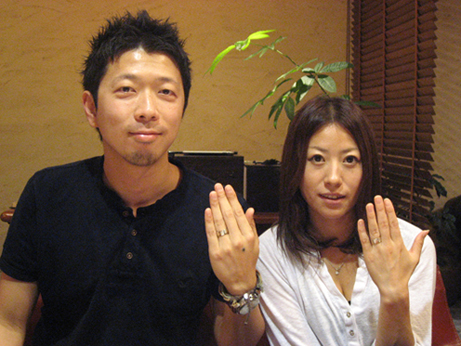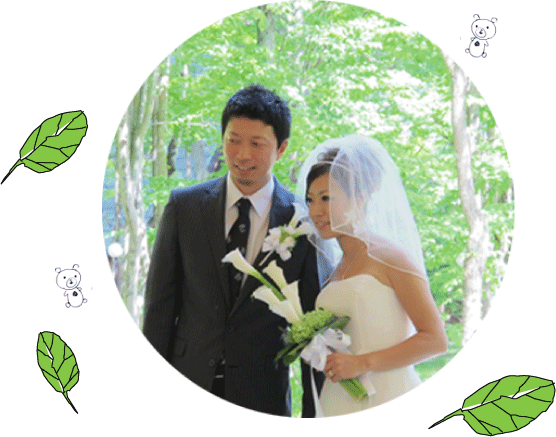 It was good to make pleasure into the last.
Our design meeting was only e-mail and phone
and we couldn't see any samples.
Even though,
we can have the only one set wedding rings
in the world.
It's due to Ms.Shinohara's assistance.
We are highly pleased with our wedding rings.
Thank you for all MOKUMEGANEYA staffs !!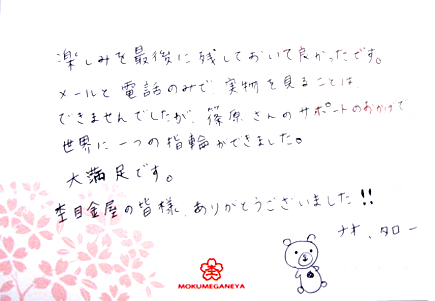 楽しみを最後に残しておいて良かったです。
メールと電話のみで、
実物を見ることはできませんでしたが、
篠原さんのサポートのおかげで、
世界に一つの指輪が出来ました。
大満足です。
杢目金屋の皆様、ありがとうございました!!
At first, we found MOKUMEGANEYA by internet.
Then requested for the catalogue.
(Even we live in Australia, they send us.)
While we were cheking MOKUMEGANEYA rings,
fascinated with MOKUMEGANE rings.
When we had design meeting by phone,
we became tense.
Even though, our concierge Ms.Shinohara
was affable to us
and we had meaty meeting.
Our wedding rings
were made from one MOKUMEGANE sheet.
That's the proof of our bond.
We showed our wedding bands to our friends.
They said " SO CUTE ~ ♡ "
We value our wedding bands all our life.