February 16, 2012 3:42 PM
☆☆☆☆☆

☆☆

☆☆☆☆☆☆☆☆☆☆☆☆☆☆☆☆
Mr. Laurentiu Catalin Arion & Ms. Oana Iuliana Cazacu
~ They ordered from United Kingdom by e-mail
and we shipped their marriage rings there ~
☆☆☆☆☆☆☆☆☆☆☆☆☆☆☆☆☆☆☆☆☆☆☆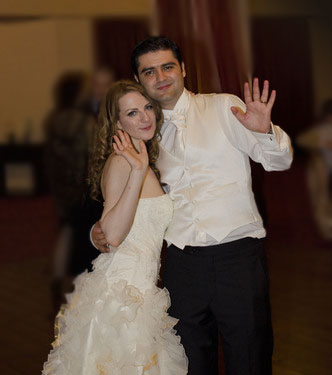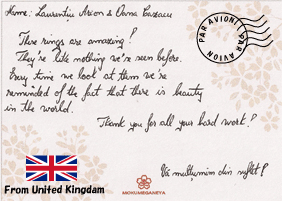 These rings are amazing !
They're like nothing we're seen before.
Every time we look at them
we're reminded of the fact that there is beauty in the world.
Thank you for all your hard work !


We chose MOKUMEGANEYA rings because I had come across rings made in this technique '' MOKUMEGANE '' a few years ago and they made an impression on me.
I remembered what the technique was called and when we started looking for our wedding rings , none of the others seemed to match yours.
They were splendidly crafted and very stylish and all other wedding rings paled in comparison.

The staff at
MOKUMEGANEYA
were very supportive.
We exchanged e-mails for a few days
and Ms. Miyuki was very eager to respond.
The service was courteous and prompt and we were given the full facts before committing to the
order
.
The order had even been handled swiftly in the midst of those horrible earthquakes that devastated the country
last year.
Even after the wedding, the team showed very good after-sale customer service skills. We are more than pleased. I wish all.

We're thrilled with our rings.
They haven't lost their shine in a year.
The pattern we chose is bulky, but as there are no stones on them or unnecessary embellishments, they look very tasteful.
Unusual, but still somewhat modest.
I wouldn't be afraid to wear mine in a bad neighborhood and all the while, I can still show it to the richest man alive and make an impression.
It's one of those things that you can appreciate for its delicate beauty, not for its worth.

We were worried they wouldn't fit. The excitement of receiving them in that beautiful little wooden box, untying the ribbon and revealing the precious little works of art blew away all the expectations and the worries we had until that day.
They were so gorgeous I wanted to cry! I think of them as a symbol of our love. And what a love that is, eih?!

Our friends and relatives had expected the wedding to happen at one point, so as happy as they were for us, they didn't jump over the moon.
The wedding rings, however, certainly made a lasting impression.
Back at home, our godparents place the wedding rings on our hands during the ceremony, so they were the ones these rings meant the most to.
The rest of the wedding party were surprised to see such intricate patterns on rings and they will certainly remember them for a long time.

We're both from Romania, we currently live in London, my husband is 33, I am 26 years old and we're anxiously waiting for the arrival of a baby this year.
My husband's a Doctor, I'm a Purchasing Manager and we met on Halloween, three years ago. Very early into the relationship, marriage had already become a subject of discussion and I finally said Yes last Christmas.
Q7: Please let us any things.

It must be such a blessing for you to work with people preparing for their happy occasions.
You bring joy to so many people and you deserve all the praises in the world for that. We hadn't expected this part of our wedding preparations to be handled so smoothly and professionally.
You have made a big impact on my life.
I will remember
MOKUMEGANEYA
throughout my life and recommend it to everyone.
I hope our daughters and daughters-in-law will be given rings such as mine on their wedding day.