August 26, 2011 2:30 PM
Mr.Richard Alan Nakane Emmerson
&
Ms. Junko Nakane Emmerson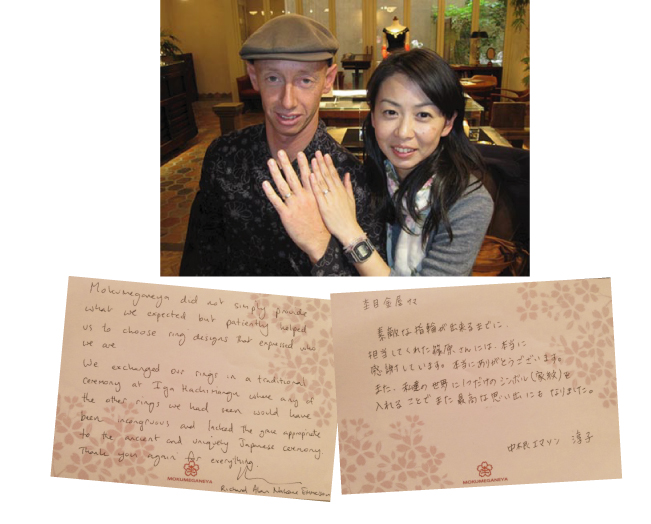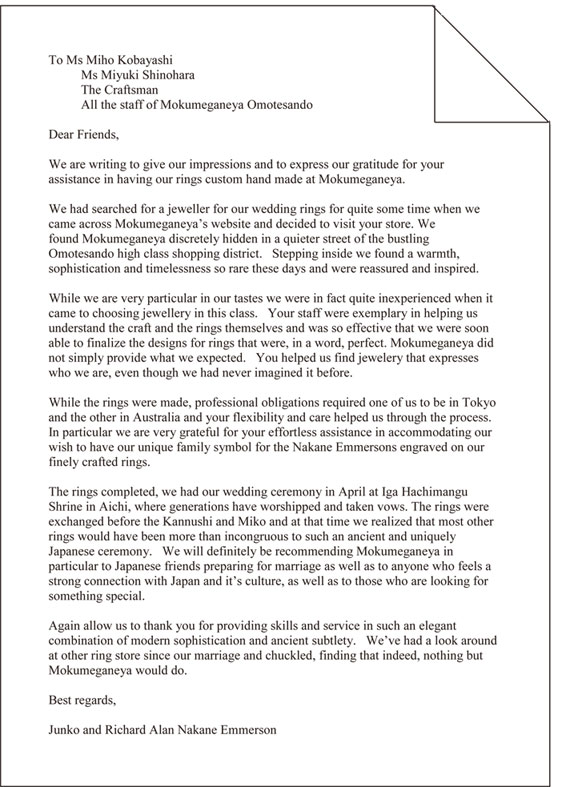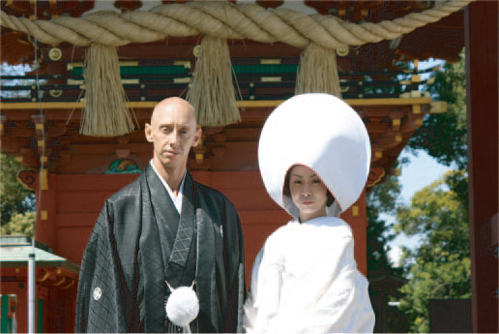 To Ms Miho Kobayashi
Ms Miyuki Shinohara
The Craftsman
All the staff of Mokumeganeya Omotesando
Dear Friends,
We are writing to give our impressions and to express our gratitude for your assistance in having our rings custom hand made at Mokumeganeya.
We had searched for a jeweller for our wedding rings for quite some time when we came across Mokumeganeya's website and decided to visit your store. We found Mokumeganeya discretely hidden in a quieter street of the bustling Omotesando high class shopping district. Stepping inside we found a warmth, sophistication and timelessness so rare these days and were reassured and inspired.
While we are very particular in our tastes we were in fact quite inexperienced when it came to choosing jewellery in this class. Your staff were exemplary in helping us understand the craft and the rings themselves and was so effective that we were soon able to finalize the designs for rings that were, in a word, perfect. Mokumeganeya did not simply provide what we expected. You helped us find jewelery that expresses who we are, even though we had never imagined it before.
While the rings were made, professional obligations required one of us to be in Tokyo and the other in Australia and your flexibility and care helped us through the process. In particular we are very grateful for your effortless assistance in accommodating our wish to have our unique family symbol for the Nakane Emmersons engraved on our finely crafted rings.
The rings completed, we had our wedding ceremony in April at Iga Hachimangu Shrine in Aichi, where generations have worshipped and taken vows. The rings were exchanged before the Kannushi and Miko and at that time we realized that most other rings would have been more than incongruous to such an ancient and uniquely Japanese ceremony. We will definitely be recommending Mokumeganeya in particular to Japanese friends preparing for marriage as well as to anyone who feels a strong connection with Japan and it's culture, as well as to those who are looking for something special.
Again allow us to thank you for providing skills and service in such an elegant combination of modern sophistication and ancient subtlety. We've had a look around at other ring store since our marriage and chuckled, finding that indeed, nothing but Mokumeganeya would do.
Best regards,
Junko and Richard Alan Nakane Emmerson