From MOKUMEGANEYA customer 0003
October 13, 2010 10:50 AM
Mr. Mark Bolton and Ms. Lisa Gilby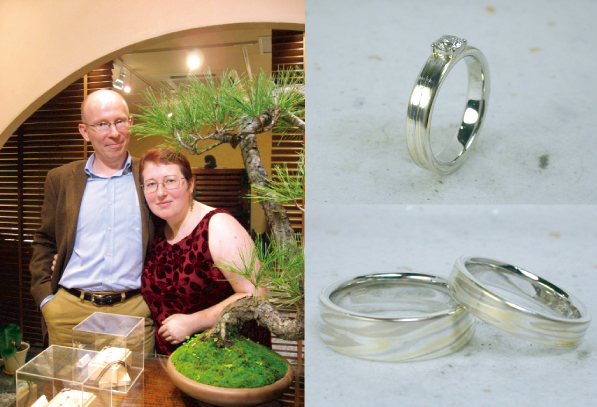 Q1: Why did you choose MOKUMEGANEYA rings?

Lisa found the technique of Mokume gane and said that she would like our rings to use this technique.

Mark and I met in 2003 and I had a long distance relationship- I lived in Edinburgh and Mark lived in Tokyo! When I moved to Japan in 2005 we decided to
get married in Japan.Because our relationship
had been so much about Mark being in Japan we wanted
Japanese style rings to reflect this.

I was challenged to find somewhere that would be able to make these rings by Googling. I found the
MOKUMEGANEYA website and we booked
an appointment.
Q2: Please tell us your experience when you came to MOKUMAGANEYA
the first time to decide the design of your rings

We visited Mokumeganeya by appointment in their old location and we spent lots of time looking at different designs and thinking about metals and shapes and
diamonds and mounts. We really appreciated
having an English-speaker come in specially to help us.

I wanted a very simple but good quality diamond for the engagement ring and there was a good selection on offer. Overall, it was a great experience!
Q3: What do you like most on your rings?

For my ring, I really like the "wood grain" like quality that the precious metals create. It is much more interesting than a "flat" Gold or platinum ring. I also like the way
the ring develops over time - I wear my wedding
ring all the time - 24/7 and 365 days.
I also like that Lisa's rings - wedding and engagement -
are the same design and sit well together.

I like the design of the Mokume gane very much I like that the rings are very easy and comfortable to wear. I like that the setting of the diamond is very strong and very simple -
it doesn`t get caught on my clothes.
Q4: What did you think when you saw your rings for the first time?

Delighted with the beauty of the rings, I think this was the first time I had commissioned original work and therefore there was an element of pleasure from seeing
ideas realized in physical form.

We were absolutely delighted with them! I have commissioned jewellery in the past and not always been satisfied - this exceeded all expectations!
Q5: How was the reaction of your friends and relatives about your wedding rings

Friends notice that the rings are different and often ask what they are made from, or where we obtained then.
We enjoy telling the story both of our relationship and the
commissioning of our rings

The response was very positive - people always enjoy the story of them and like the use of traditional techniques - and they love how they look as well!
Q6: Please let us know something of your life

We continue to live in Tokyo, and the intention is that we will stay in Japan for the next two or three years.

When we do leave Japan, we will have our rings as a memory of this time.
In the current financial climate I'm glad to be in Tokyo
performing an interesting and challenging role
at work and like the many benefits of living here.